Quad and scooter rental in Renesse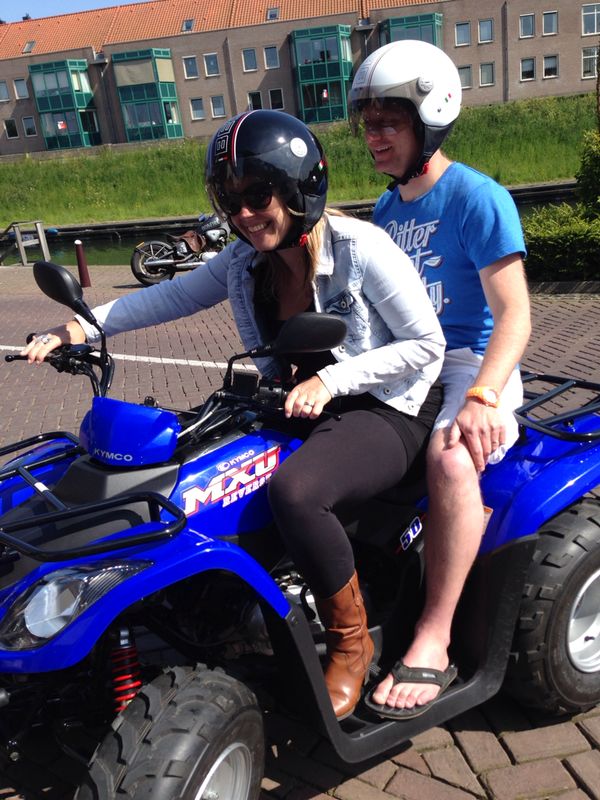 Rent a quad for just 25,- per hour
Experience the natural surroundings that Renesse and the environment has to offer in a whole new and spectacular way. Fun for bachelor parties or corporate events!

So: RENT A QUAD or scooter!
We rent quads which are suitable for 2 persons per quad. The quads can drive the public roads. Driving on the beach, in the dunes, riding trails, forest and nature reserve is not allowed!
You will need a (moped) driver license. The quad you can rent is a Kymco MXU 50cc. This quad is fully equipped and has an automatic gearbox which is also equipped with a reverse gear, so easy to ride. After a short explanation and some instructions your unique quad experience can begin! You can drive without escort, so you can go where you want to go. We also have special seats for your little ones. So they can drive with you.
You already can rent a quad at us for a period of one hour.
We have a free parking area at our shop! When you park your car here you don't have to pay any deposit. This benefit does not apply to young people under 30, they pay a cash deposit per quad.
WE ARE OPENED FROM THE FIRST OF APRIL TILL THE 31RD OF OCTOBER.


* RESERVATION IS ONLY POSSIBLE UNDER THE CONDITION OF COMPLETE ADVANCE PAYMENT!


Do you want to treat someone with a nice gift? We also have gift cards.
Quad Rental Renesse also rents moped scooters. Again, you must be at least 16 years old and in possession of a (moped) driving license.
We have 2 brands of scooters. The SYM Fiddle 2. A petrol scooter that you can ride with 2 people. We have these in the 25 km and the 45 km version.
And the AGM Goccia. A very nice electric scooter with the retro look of the former Puch and Tomos. This is a 25 km version which means that you can drive without a helmet. This scooter is intended for 1 person. A big advantage: you can just follow the cycling routes because this cheerful scooter is allowed on all cycle paths.